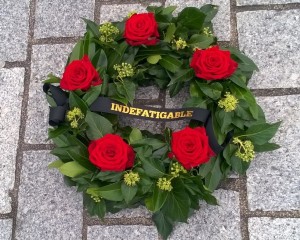 Merchant Navy Memorial Day in Liverpool: 4th September 2016: 
Once again the IOBA Standard will be paraded.
The Merchant Navy Day Committee is pleased to invite you to this year's ceremony in the Liverpool Parish Church of Our Lady and Saint Nicholas, Chapel Street, Liverpool.
Merchant Navy Day is the annual celebration of the British Merchant Navy and a memorial service for the 36,000 seafarers who died at sea in World War 2. The service is attended by diplomatic representatives of Britain's allies during World War 2 who pay homage to their own considerable losses of merchant seafarers serving in British Ships.
The service will begin at noon in the church and be followed by the laying of wreaths on the Pier Head memorials at 1pm. All should be completed by l-45pm.
The IOBA wreath will be laid along with many others, Merchant Navy veterans, High Commissioners and Naval Attaches from many countries linked with the Port of Liverpool, including Navy in Canada, plus the Lord Mayor of Liverpool and Mayors of the Merseyside Boroughs.
Archieve;
Video: http://www.liverpoolshipsandsailors.com/2015/09/06/merchant-navy-day-2015/
Stills: http://www.liverpoolecho.co.uk/news/liverpool-news/lord-mayor-leads-liverpools-national-10000572
---
Steve Humphries 75/76. Indefatigable Old Boys Association (IOBA): Secretary & Archives
34th Annual IOBA Reunion Day Saturday 10th June 2017 – at
JSMTC Indefatigable.

34th Annual IOBA Reunion Dinner Saturday 10th June 2017  – at the Carreg Bran Hotel.